2017: Less is More
Jan 01, 2017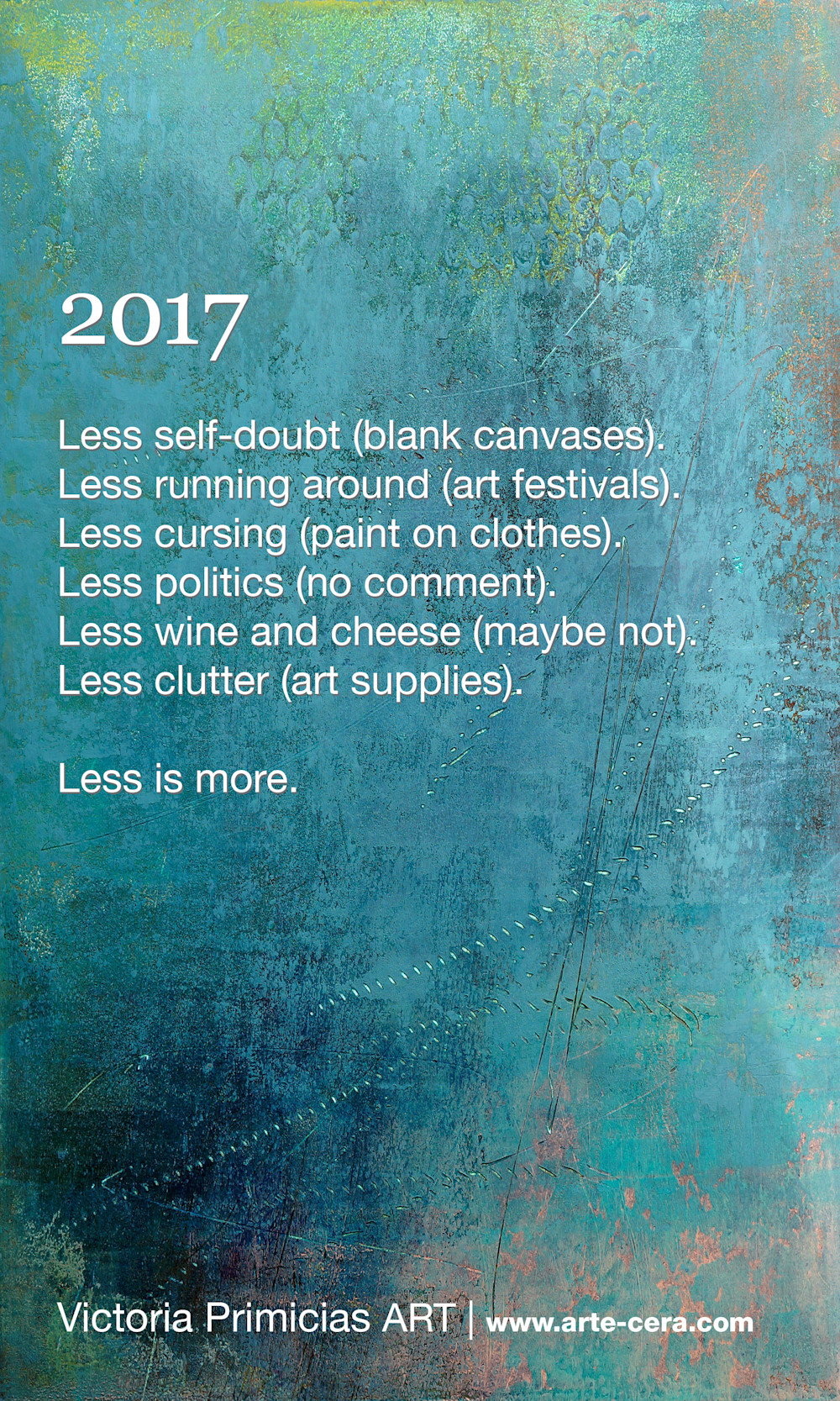 Yep, I guess you could say that's my goal this year.
The last couple of years had me spinning out of control. From switching mediums (first encaustics, then oil/cold wax, followed by acrylics) to art festivals (logging in miles from New York to Florida), I didn't get a chance to settle in and truly focus
on my art.
You know the feeling, when there's just not enough time in the day? And when I did get around to the business of painting, it was plagued with self-doubt (not good enough, not original enough, no one will like it, too cheap, too expensive, too small, too many colors, too boring, too crazy, too easy, too hard...).
And yes, I can be too sensitive, which was certainly the case with a choice of paint mediums. I liked working in both the encaustic (hot wax) medium as well as oil/cold wax but there was something in them that irritated my respiration.
I went from installing a centrifugal exhaust fan, to wearing a mask with chemical filters, then working almost outdoors (the garage with the door open)... all to no avail. In early 2016, I switched to acrylics. Fortunately,
it seems to be working out well.
Meanwhile, I have accumulated quite a few art supplies. I have a full encaustic "kitchen" (heating elements, powdered pigments, wax trays), and so many tubes of wonderful oil colors – Charvin and Gamblin brands – each one judiciously purchased and now stashed away. I've become a hoarder. The optimistic part of me says I'll get back to these mediums someday. Encaustics is so luminous, and oil/cold wax, so sophisticated. How can I walk away?
And then there are the art festivals. After four years, I'm still a novice in the art circuit. It's a lot of driving and very hard physical labor: heavy tent, early morning setup, long days and lonely drives. And, while there are aspects of it I really enjoy, I'm not entirely cut out for this lifestyle. 2016 was especially tough for a lot of artists because of bad weather (excessive heat and winds), the unstable economy, and the supposed negative impact on sales during an election year.
This year, I intend to cut back on my number of outdoor shows, drive less, and paint more. I want to focus on the less-is-more aesthetic that has proved enduring in my work, from my early graphic design days to my current fine art explorations in landscapes and abstracts.
"Don't use a lot where a little will do." – Proverb
And to that, I say, Hallelujah!