Why I Support Kiva
Dec 28, 2016
Originally published January 16, 2013
When I was about eleven or twelve, my godfather gifted me with two hundred pesos, a princely sum for me at the time. My sister, six years older, convinced me to invest in some piglets. She knew someone who knew someone who knew someone. Wait a year or two, she implored, and I'd receive quadruple my original investment. "Are you sure?" I asked. Giving me her usual withering look that said, "Don't be ridiculous," I reluctantly handed over the money. Several years later when I remembered to ask about the piglet, she replied flatly, "The pig farmer disappeared." That was the end of that.
To be sure, my interest was in making money, but I also liked the idea of helping other people. I was born in the Philippines, a poor country where many live in squalor, having to contend with annual monsoons and destructive typhoons, and struggle to put food on the table. I was one of the lucky ones, certainly not by North American standards, but I didn't live in a hut, and we had running water. I became even luckier when, at 15, I moved with my family to Toronto.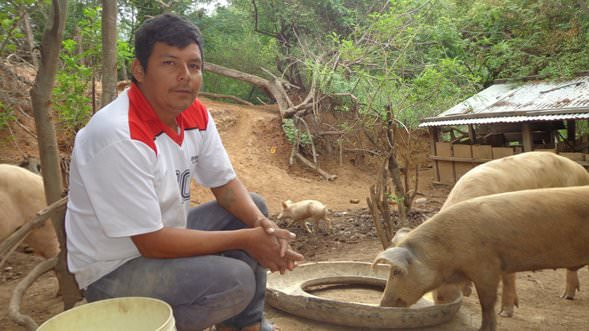 Here is a typical Kiva entrepreneur. Fermín, 40, lives with his wife, Felicidad, in Tarija, Bolivia.
His main activities are raising and selling pigs and cattle. He also grows yellow feed corn, sells some of it, and uses the rest to feed his pigs. Fermín has 3 children who are in school. He works hard to cover their education and other expenses. He is asking for a loan to plant corn for pig feed so he can continue to support his family.
I have now lived most of my life in this hemisphere but a recent return "home" reminded me of how poverty remains a critical issue in a country where there is little to no safety net. Yet somehow people get by, thanks to the help of family, friends, and organizations like Kiva.
Kiva is a non-profit organization that connects lenders with borrowers to alleviate poverty. Using the internet and a global network of microfinance institutions, Kiva enables people to lend as little as $25 to help create opportunity around the world.
I can't recall the first time I learned about Kiva but I started supporting
them a few years ago. Beginning with a loan to Mrs. Sophea in Cambodia that allowed her to buy more vegetables to resell, I quickly followed with other small loans to clothing business owners, general stores, a pig farmer
(of course!), and a fish seller in Senegal, Ecuador and the Philippines.
When I first set up my account with Kiva, I said that I loan because I believe we are our brother's keeper, and empowering others creates greater abundance for everyone in the world. This still holds true for me today. So far, all my loans have been repaid 100%, and these funds are now back in the hands of a few more small business owners. Even if the loans are not fully repaid, I still applaud other people's entrepreneurial
and creative efforts to make a better life for themselves.
With Kiva's help, I'm able to share the good fortune that's mine simply because I live in an affluent country. I'm not rich but compared to many in this world, I live in comfort. I'm able to imbibe in things that please me and that feed my soul, including my painting. Such luxury. For that alone, I am grateful. For more information about Kiva, click here.